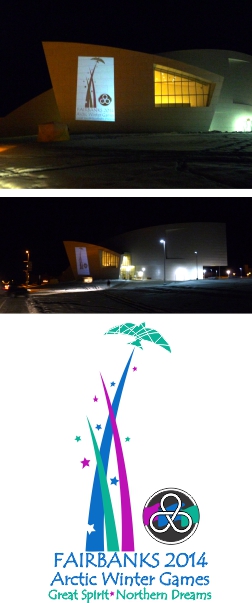 The logo I designed for the Fairbanks 2014 Arctic Winter Games bid was projected onto the side of the University of Alaska Museum of the North during the International Committee's site visit in January. Don't think I've ever done anything that was used quite that big! Someone drew the short straw and had to stay in the tent with the projection equipment keeping it warm. Many thanks to whoever that was. As I recall it was around -10 to -15 degrees that evening.
The Arctic Winter Games is held every two years and Fairbanks is bidding to host it in 2014. We're very excited about it. Over 2,000 athletes and coaches arrive along with their friends and family. The estimated economic impact is 18-20 million dollars to the local economy. It's a great opportunity for athletes from around the circumpolar north to come together for competition in 20 sports and for Fairbanks to host such an international event.
It's been a wonderful experience to work with the many Fairbanksans putting together the bid packet. We'll know by the end of February if the Games are awarded to us. After that it's full speed ahead planning all the parts that go into putting on a successful Games. It'll be great seeing the logo on various merchandise and around town. Although I can't imagine seeing it any bigger than on the Museum!
From what I hear, the Museum liked the idea so much they are looking into projecting other images promoting new exhibits.
If you want to know more about Arctic Winter Games, please visit www.awgfairbanks2014.org
Filed under: Ramblings
|
Closed
---
About the artist

Jill Marshall came to Alaska in 1975 for a 3-month stay that never ended. Her artwork blends her love of Alaska with the wildness of Alaska's people and places. These themes are woven throughout her designs.

Read More